Everything You Need to Know About COVID-19 to Keep Your Company on the Road
Updated September 27, 2020 at 3:30 pm
New HOS Rules Take Effect Tuesday September 29, 2020
The Federal Motor Carrier Safety Administration's new Hours of Service (HOS) rules go into effect at one midnight past midnight, Eastern Time, Tuesday, September 29. The new rules include the expansion of split-sleeper berth options afforded to drivers, which will allow them to split their 10-hour off-duty period into windows of seven hours and three hours, in addition to the existing eight-hour, two-hour option. The shorter window in any split of off-duty time will not count against a drivers' 14-hour on-duty clock.
Provisions around the 30-minute break requirement have been changed, allowing drivers the additional option of logging their break as on-duty, not-driving, as well as off-duty or sleeper berth.  The requirement covering when to take the break has also been adjusted, to allow the driver to take it within their first eight hours of drive time, rather than their first eight hours on-duty.
Another rule change will expand the adverse driving conditions provision by allowing drivers to extend both their drive-time limit and their on-duty window by two hours if they encounter adverse conditions such as weather or traffic congestion. The agency says the provision will allow drivers to either sit and wait out the conditions or to drive slowly through them.
Short-haul carriers will get benefits from the final rule change, which expands the exemptions for short-haul drivers by extending their allowed on-duty period from 12 hours to 14 hours. Drivers under the short-haul exemption aren't required to keep records of duty status, and do not need to take the mandatory 30-minute break after eight hours of driving. Finally, the radius for short haul exemption status has been increased from 100 to 150 air miles.
FMCSA Extends Emergency Relief Declaration to Sept. 14
The Federal Motor Carrier Safety Administration has again extended its emergency declaration relaxing hours-of-service rules for motor carriers that are providing direct assistance in support of coronavirus-related relief efforts. CLICK HERE to learn more.
FMCSA Extends Emergency Relief Declaration to Aug. 14
The Federal Motor Carrier Safety Administration again extended its emergency relief declaration for truckers directly assisting with coronavirus-related efforts.
FMCSA on July 13 announced the declaration will remain in place through Aug. 14. The agency explained the extension is necessary to continue aid efforts across certain supply chains.
Specifically, according to the notice, the extension offers "regulatory relief for commercial motor vehicle operations providing direct assistance in support of emergency relief efforts related to COVID-19 and is limited to transportation of livestock and livestock feed; medical supplies and equipment related to the testing, diagnosis and treatment of COVID-19; and supplies and equipment necessary for community safety, sanitation, and prevention of community transmission of COVID-19 such as masks, gloves, hand sanitizer, soap and disinfectants."
The emergency declaration, which had been set to expire July 14, covers every state and the District of Columbia. It keeps the exemption from Parts 390-399 of the Federal Motor Carrier Safety Regulations. Those sections pertain to hours of service, parts and accessories needed for safe operation, and longer combination vehicles.
The declaration, however, does not grant relief from speed limits, drug and alcohol regulations, or size and weight requirements. CLICK HERE to read the full declaration.
FMCSA Announces Extension of CDL, CLP, and Medical Cert Waiver
On Monday, June 15, the Federal Motor Carrier Safety Administration (FMCSA) announced it will extend the waiver for drivers to renew their expired CDL's, CLP's, and medical certificates until September 30. The initial declaration was issued March 24, as the COVID-19 pandemic forced many state licensing facilities to close, and was slated to expire on June 30.
The waiver applies to all Commercial Driver's Licenses (CDL's), Commercial Learner's Permits (CLP's), and medical certificates issued on or after March 1, 2020. The CLP waiver means that drivers will not have to retake the general and endorsement knowledge tests again, when they present their CLP for upgrade to a full CDL. CLICK HERE to read the full declaration.
Hours of Service - What's New in the Final Rule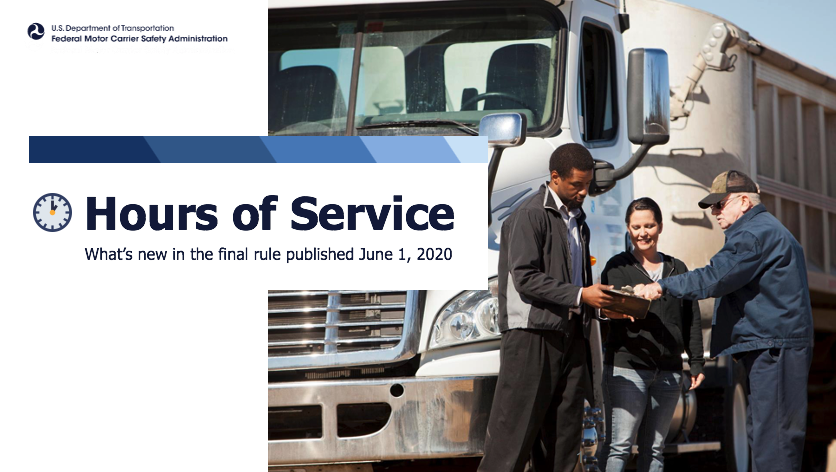 On Thursday, June 11, OTA President & CEO Tom Balzer was joined by Julia Felts, Safety Investigator for Ohio FMCSA and Stephen McCormick, Division Administrator for the Ohio FMCSA Office as part of the OTA on the Air series. During this webinar, an overview of Hours of Service was discussed. CLICK HERE for the Hours of Service slides. CLICK HERE for the webinar recording.
FMCSA Extends the Emergency Declaration until July 14, 2020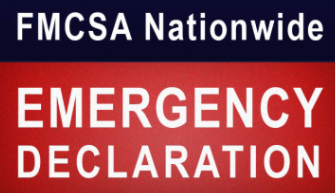 The Federal Motor Carrier Safety Administration has extended the Emergency Declaration until July 14, 2020 with some changes.
Effective June 15, 2020, the following items or personnel are no longer eligible for the emergency exemption as of the end of the day on June 14, 2020:
Food, paper products, and other groceries for emergency restocking of distribution centers or stores;
Fuel;
Liquefied gases to be used in refrigeration or cooling systems;
Equipment, supplies, and persons necessary to establish and manage temporary housing, quarantine, and isolation facilities related to COVID- 19;
Persons designated by federal, state or local authorities for medical, isolation, or quarantine purposes; and
Persons necessary to provide other medical or emergency services.
CLICK HERE to read the full declaration.
FMCSA Announces Remote Carrier Audit Option During COVID-19
During the COVID-19 public health emergency, the Federal Motor Carrier Safety Administration (FMCSA) has announced it will conduct compliance reviews under 49 CFR part 385, subpart A, by leveraging all available technology to access information and records and thus limit exposure risk for the regulated community and safety investigators. Using the same standards otherwise applicable, FMCSA will assign safety ratings following a compliance review even if no on-site review activities have taken place. FMCSA will continue to apply the procedures in 49 CFR part 385, including the Safety Fitness Rating Methodology (SFRM) in Appendix B, prior to assigning a safety rating. This guidance does not apply to compliance reviews conducted under 49 CFR part 385, subpart B.
Since adoption of the SFRM in 1997, the mechanisms and tools FMCSA use to access information from motor carriers has continued to evolve, making compliance reviews more efficient and lessening the burden on the regulated community. Although the definition of "compliance review" in 49 CFR 385.3 describes these reviews as "on-site," in practice, the advent of electronic recordkeeping and other technology now allows FMCSA to perform the same investigative functions remotely that it could perform previously only by in-person reviews of the motor carrier's files.
Motor carriers may access and transmit their information through a portal directly with FMCSA and upload documents in a secure environment. Many motor carriers maintain their records electronically and prefer to submit the records directly, from the electronic application where they are stored. Motor carriers may also fax or email documents to FMCSA if they so choose, or if they cannot access the portal. FMCSA may also use email and telephone and video calls as a substitute for in-person interaction with motor carrier officials during the compliance review or to review the findings of the compliance review with company officials during the close out.
Because of travel restrictions, social distancing, and other advisories associated with the COVID- 19 public health emergency, and the desire to limit exposure risk to the regulated community and safety investigators, FMCSA will conduct compliance reviews of motor carriers and assign safety ratings even if those compliance reviews do not include an "on-site" component. FMCSA has determined that because safety investigators are able to follow all of the procedures in 49 CFR part 385 without physically visiting the motor carrier's business premise, compliance reviews that do not include an "on-site" component will limit exposure risk to COVID-19, consistent with current regulations, without compromising FMCSA's safety mission.
This guidance is effective immediately and shall remain in effect until the COVID-19 National Emergency Declaration is lifted.
Paycheck Protection Program Loan Forgiveness Application
To apply for forgiveness of your Paycheck Protection Program (PPP) loan, you (the Borrower) must complete this application as directed in these instructions, and submit it to your Lender (or the Lender that is servicing your loan). Borrowers may also complete this application electronically through their Lender. CLICK HERE to download the application.
FMCSA

 Announces 

Extension of 

Hours-of-Service 

Exemption

 for 

Emergency Relief 

Shipments through June 14
The Federal Motor Carrier Safety Administration (FMCSA) has announced an extension of the regulatory relief from the Hours of Service (HOS) requirements for commercial motor vehicle carriers providing direct assistance in support of transport of emergency relief supplies, including community safety and emergency restocking items, as well as medical equipment and testing supplies. This exemption declaration, which was due to expire on May 15, is now in effect until June 14. 
The Declaration continues to mandate that in order to meet the criteria for the exemption, the shipment must consist of the following: 
medical supplies 

and 

equipment related to the testing, diagnosis and treatment of COVID-19;

 

supplies and equipment necessary for community 

safety, 

sanitation, 

and 

prevention of community transmission of COVID-19 such as masks, gloves, hand sanitizer, soap and disinfectants;

 

food for emergency restocking of stores;

 

equipment, supplies 

and 

persons necessary to establish and manage temporary housing, quarantine, and isolation facilities related to COVID-19;

 

persons designated by Federal, State or local authorities for medical, isolation, or quarantine purposes; and

 

persons necessary to provide other medical or emergency services, the supply of which may be affected by the COVID-19 response.

 
Shipments of all other items, including mixed loads that may contain some of the items listed above, are NOT exempt from the granting of regulatory relief.  
This Declaration applies to drivers while they are delivering shipments described above, as well as the time they are returning empty from a delivery of the items described above, to their normal terminal or work reporting location. 
Motor carriers should be aware that this notice does not absolve them of their duty to monitor their drivers. In addition, this granting of relief is not an exemption from driver's CDL requirements; controlled substance and alcohol use and testing requirements; hazmat, size, and weight requirements; or financial responsibility (insurance) requirements.  
Inquiries to the FMCSA regarding this Declaration can be made to this toll-free number: (877) 831-2250. 
CLICK HERE for a copy of the extension.
PPP Deadline Extended; Discussions on PPP Expansion in DC
The Small Business Administration has announced that the deadline for applying for the Paycheck Protection Program has been extended from May 7 to May 14. If you still want to apply for the PPP, please contact your local SBA-approved lender.
In addition, lawmakers in Washington, DC are discussing future expansions of the PPP as the House and Senate are working on the next stimulus package. The House is expected to unveil plans as early as Friday. Stay tuned.
Ohio BMV Adds Online Commercial Truck and Trailer Renewal Option
The Ohio Bureau of Motor Vehicles (BMV) has announced additional options to their online registration service, OPLATES. Effective immediately, certain non-IRP apportioned Commercial Truck and Trailer registration renewals can be completed and paid for online.  
This first addition to the OPLATES online service allows registrants to renew and pay their commercial vehicle class TK and TL registrations for 1 to 5 years, and are limited to those that do not result in new plate issuance as follows: 
Renewals for Commercial Trailers (TL);

 

Renewals for Commercial Trucks (TK) restricted to vehicles with GVW

under

 

55,000 lbs;                  

 

Replacements of Registration Card and/or Validation Sticke

rs
In order to begin the process, the commercial Registrant will need to access the OPLATES system at www.oplates.com. Once there, select the box titled Ohio Plates. Use the first query option (Plate Information).  This Plate Information query requires the TIN (Federal Taxpayer Identification Number) used for registration, and a Plate Number that they wish to renew. The user will then follow the instructions on the screen to complete the commercial renewal transaction and add it to their cart for online payment. This process can be repeated for up to 15 plates under a single payment via credit card or E-Check. After that, the process can be repeated for an additional 15 plates, etc. 
Validation stickers and Registration Cards will be sent via mail in the timeframe provided at the time of payment. Any questions or requests for assistance with the OPLATES program should be directed to the Office of Vehicle Services, at (844) 644-6268, or through the Live Chat link at www.bmv.ohio.gov.  
Ohio Issues "Stay Safe Ohio Order"

'Stay Safe Ohio' order extends some stay-at-home protocol until May 29, with exceptions for reopening. CLICK HERE to read the full order.
PPE Resources
Hand Sanitizer
Middle West Spirits in Columbus is providing hand sanitizer ranging from 8oz bottles to a 5 gallon bucket with spout. The 5 gallon buckets are $0.25 an ounce. To order please do so directly use this form.
Drivers are also able to stop at Jet Express in Dayton to fill up their personal supply of hand sanitizer. Jet Express is located at 4518 Webster Street, Dayton, OH, 45414.
Disposable Masks
If you are looking for FDA Certified Medical 3-Layer Disposable Masks, they are available through Aunt Flow, a Columbus based company. Prices are as low as $0.96 each. Please order by following this link.
Cloth Masks
Delta Apparel, a Hebron based company, has non-medical grade cloth face masks available for as low as $1.15 per mask. CLICK HERE for more information and ordering information.
BWC Board approves $1.6 billion dividend for Ohio employers
The Ohio Bureau of Workers' Compensation's Board of Directors approved to send up to $1.6 billion to Ohio employers this spring to ease the economic impact of the coronavirus (COVID-19) pandemic on Ohio's economy and business community. This action comes in response to Ohio Governor Mike DeWine's call for state agencies to do all they can to help the state's business community withstand COVID-19's challenges, which include temporary business closings, stay-at-home orders, and a record number of Ohioans applying for unemployment assistance. CLICK HERE for a FAQ Document on the dividend. CLICK HERE for a general FAQ on BWC and COVID-19.
Coronavirus – Facial Covering Orders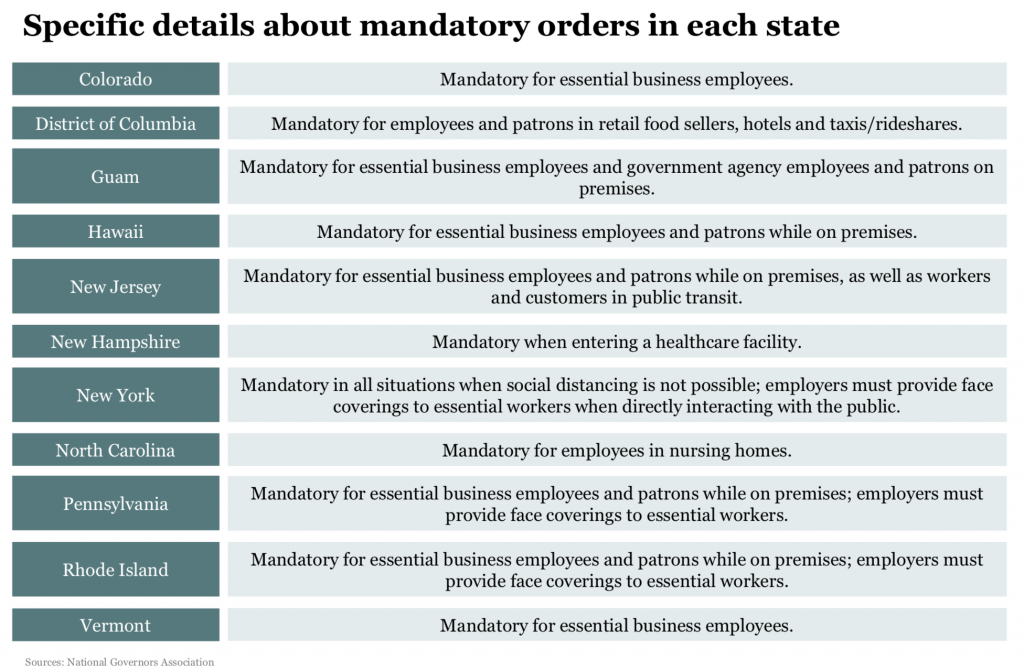 CLICK HERE for an overview of state orders regarding the use of facial covers while in public from NationalJournal.
OTA Members Support ATA Distribution of Hand Sanitizer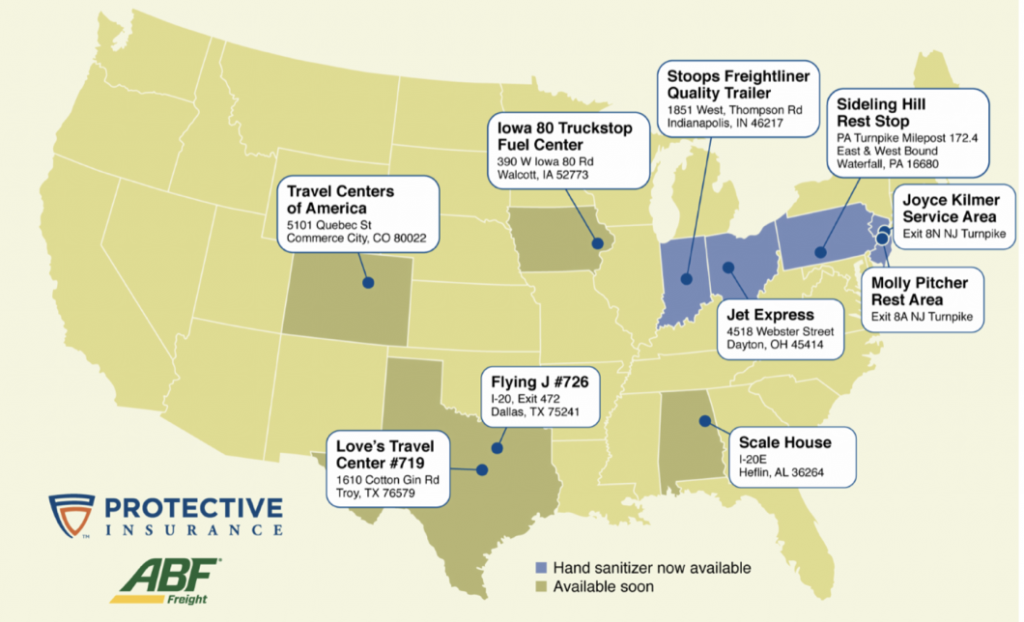 As professional truck drivers continue serving on the frontlines during the COVID-19 crisis, American Trucking Associations has partnered with Protective Insurance Company to expand the availability and supply of hand sanitizer to truckers along major U.S. freight corridors. ATA and member-company ABF Freight are hauling ten 55-gallon drums of hand sanitizer, purchased by Protective Insurance, for distribution in eight states, where drivers will be able to refill their personal supplies at no cost.
Ohio BMV Clarifies CDL Hazmat Renewal Process During COVID-19
The continued social distancing requirements and facility closures stemming from the COVID-19 pandemic has caused some confusion and uncertainty in one key area: the process for renewing a hazardous materials (hazmat) endorsement on a Commercial Driver's License (CDL), which includes the successful completion of a Security Threat Assessment (STA) from the Transportation Security Administration (TSA). 
After reaching out to the Ohio Bureau of Motor Vehicles (BMV) for clarification, the following guidance is in place for Ohio CDL drivers with a hazmat endorsement:  
Any CDL, with any endorsements added, that expired after March 9

, 2020,

 and haven't been renewed, are still considered valid. No enforcement of a CDL that expired after March 9 is taking place at this time.

 

The BMV is advising drivers 

with a hazmat endorsement 

NOT to renew their CDL until they can successfully complete the STA requirement.

 

Drivers looking to renew their CDL, including their 

h

azmat endorsement, need to start an STA at least 60 days before they go to one of the five open 

BMV deputy 

registrar offices in Ohio to get their CDL renewed. A

t this time

, eight 

TSA 

enrollment centers are open for this purpose: one each in Columbus, Dayton, Cincinnati, and Toledo (Sylvania), along with four in NE Ohio—Ashtabula, Fairlawn, Middleburg H

eigh

ts, and Parma.

 
This policy will remain in place until 90 days after the lifting of the Emergency declaration, or December 1, 2020, whichever comes first. 
Special COVID-19 Coverage Brought to You By Our Sponsors: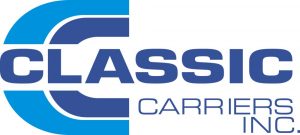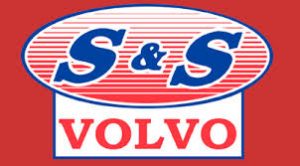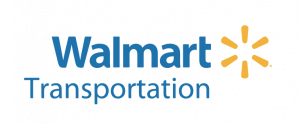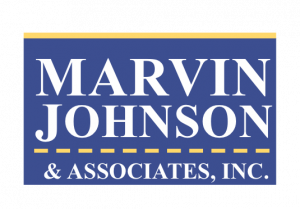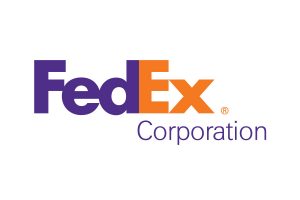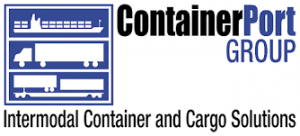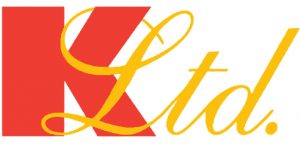 Friends of OTA:
Marsh & McLennan Agency
J.J. Keller & Associates
Truck Renting & Leasing Association
No Extension of IFTA Filing Deadline
The Ohio Trucking Association submitted a request to the Ohio Department of Taxation for an extension of the IFTA filing deadline or a deferral on payment. In response to requests the Ohio Department of Taxation's Excise and Energy Division noted that no extension has been authorized. As a result, first quarter returns and payments are still due on April 30. The agency also emphasized that their offices remain open and staffed, to process returns, answer phone calls, and respond to emails.
The agency did note, however, that due to the effects of the pandemic and the restrictions placed on certain businesses, allowances will be considered to waive late fees for filers that are unable to file a return or make a payment by that time. These waivers will be considered on a case-by-case basis.
Filers with questions or concerns can contact the Excise and Energy Division by phone at 855-466-3921, or by using
this email link
.
What do I do after I receive my Paycheck Protection Program (PPP) Funds?

Ohio Trucking Association sponsor Schneider Downs has authored a timely article about what to do after you receive your Paycheck Protect Program funds, what they can be spent on and how to track those expenditures properly. As you recall, when applying for this loan, there is an opportunity to have 100% of the loan forgiven and, unlike other loans, having this loan forgiven will not be taxed for federal income tax purposes. The states are still considering the impact of the loan forgiveness, but you still need to focus on maximizing the forgiveness offered. CLICK HERE for the full article.
TSA extends renewal time for TWIC cards to July 31, 2020
The Transportation Security Administration (TSA) has granted a temporary exemption for the expiration of Transportation Worker Identification Credentials (TWIC) through July 31, 2020 for cards that expired after March 1, due to continued gathering restrictions and facility closures stemming from the COVID-19 nationwide emergency. 
The exemption became effective April 10. 
"During this time, it is vital to move cargo expeditiously through the supply chain, and to ensure that medical supplies and home goods reach health care centers and consumers," said the TSA announcement.  
TSA regulations require truck drivers and other transportation workers who seek unescorted access to secured areas of maritime port facilities to undergo a security threat assessment conducted by the agency to receive a TWIC. 
A TWIC expires five years from the date of issuance, and individuals must go to a TSA enrollment center to initiate a new security threat assessment to receive a new credential. 
TWIC applicants also are required to provide proof of identity and fingerprints at approved enrollment sites, designated and operated by TSA trusted agents. 
TSA records show that 234,536, or approximately 10% of the total number of TWICs issued, will expire in the next six months. 
"Social distancing practices in response to the COVID-19 crisis make gathering at enrollment centers unwise or prohibited," TSA said. Approximately one-third of TSA's TWIC enrollment centers have been forced to close because they are collocated with commercial or government offices that are closed as a result of COVID-19. For those that are operating, the process of collecting fingerprints and completing the enrollment process "may introduce risk to enrollment center staff or TWIC applicants," TSA said. 
During the extension period, the agency said it will continue to recurrently vet exempted TWIC holders against federal terrorism and national security-related watch lists, and a Department of Homeland Security system for security threats, criminal history and immigration status checks. 
Lt. Governor Husted announced that the Governor's Office of Workforce Transformation has developed a website specifically geared toward matching essential businesses with Ohioans who are able and willing to work as an essential employee during the COVID-19 crisis. Click HERE to access the job search site.
Ohio's stay-at-home order will now run through the entire month of April at least – with additional limitations – after Gov. Mike DeWine announced an extension Thursday, April 2, 2020. The extension serves as a response to the continued growth of coronavirus cases in the state amid the ongoing pandemic. Full Order HERE.
We Appreciate You and Your Dedication to the Industry!
Three-Month FMCSA Waiver on CLP Holders Operating CMV's
 The Federal Motor Carrier Safety Administration (FMCSA) has issued a waiver for holders of Commercial Learner Permits (CLP), until June 30, 2020, or the lifting of the COVID-19 National Emergency Declaration, whichever comes first.
This waiver is limited in scope; with regards to the operation of a CMV, the waiver lifts the requirement that a CDL driver must be in the front passenger seat, next to the CLP driver, while the CLP holder is driving. The CDL holder may now be in the sleeper berth, allowing the team to function as would a team with two CDL drivers in the truck.
All other requirements for the CLP holder remain in place, including proof that the CLP holder has passed the CDL driving skills test, and carries a valid CLP, a non-CDL driver's license, and medical certificate. NOTE: if any of the three documents listed expired after March 1, 2020, then the FMCSA waiver from March 24, extending the validity of these documents, also applies.
The other part of this waiver lifts the "same-state" training and testing requirement for non-domiciled CLP holders. States with facilities open for CDL skills tests, may administer the test to any non-domiciled CDL applicant, regardless of where the applicant received driver training.
The FMCSA restricted this waiver, so that it does NOT apply to any CMV operating under any shipment requiring any type of endorsement, including:
T: Tandem (Double and Triple) Trailers
P: Passenger
N: Tank trailer
H: Hazardous Materials
X: Combination of Tank/Hazardous Materials
S: School Bus
The complete waiver is available at this link: https://www.fmcsa.dot.gov/emergency/three-month-waiver-response-covid-19-emergency-states-and-clp-holders-operating
Latest FMCSA and DOT Information and Releases
Ohio DOT CDL Expiration Extension Information
Any Ohio CDL with an expiration date after March 9, 2020, but before the end of the State of Emergency, is considered valid for a period of time not to exceed 90 days past the end of the State of Emergency, or December 1st (whichever comes first.) For the full letter click HERE.
Essential Business Letter
Customize this optional letter, print and place in trucks.
Under Ohio's stay at home order, credentialing is not required, but we have produced a template letter that you can customize and place in trucks to give your drivers peace of mind.
Download the full letter HERE.
Ohio Stay At Home Order Explained
On March 22, 2020, the state of Ohio enacted a Stay at Home Order. This order limits the businesses that are aloud to operate at this time. Under this order the state identified a number of essential businesses that are allowed to still operate:
Trucking, moving and relocation services
Warehousing, fulfillment centers, storage facilities and distribution centers
Highways, ports, railroads, taxis, transportation network provider sand public transportation
Truck stops and fueling stations
Repair facilities
Mail, post, shipping, logistics, delivery, and pick up services
Commercial transportation and logistics providers necessary for Essential Activities and other purposes
Supply chain for critical products and industries
Waste Pickup and Disposal
During this time, we are asking Governor DeWine to make the trucking Industry a priority. Here are our asks:
Full Access to Rest Areas, Food Services and Parking for CDL Holders

Extend Licenses and Registration That Expire Prior to June 8, 2020

Suspend Random Truck Inspections and Scale Houses for 30 Days

Allow Truck Parking at Scale Facilities

Waive Overweight Permit Fees for Emergency Loads

Allow Drivers to Use Electronic Permits and Paperwork

Suspend all No Truck Route Restrictions and Waive Spring Load Restrictions

Extend Income Tax Filing Deadline and Waive Late Penalties

Keep Daycares Open to All Transportation Employees

Make Trucking, Warehousing, Distribution and Truck Stops Essential Business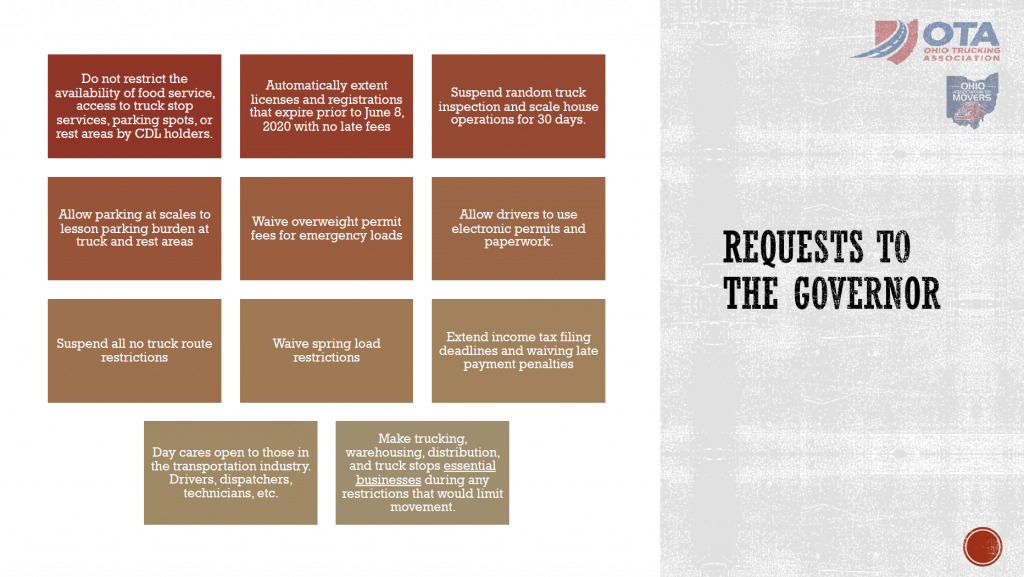 The Ohio Legislature and Governor's Office have worked together to ease regulatory burdens during this time. We are appreciative of the work being done by the state to ensure expiring CDL licenses continue to be valid and accepted until this historic time has passed. Click HERE for full summary.
Interim Guidance for Businesses and Employers to Plan and Respond to COVID-19
This interim guidance is based on what is currently known about the coronavirus disease 2019 (COVID-19). COVID-19 is a respiratory illness that can spread from person to person. The outbreak first started in China, but the virus continues to spread internationally and in the United States. The Centers for Disease Control and Prevention (CDC) will update this interim guidance as additional information becomes available.  Click HERE for more information.
Print Out PUCO Hours of Service Exemption
Please note, your drivers MUST print this notice off and have it on them during this time if they are running special routes outside of normal HOS. Please note, The regulatory relief exempting motor carriers from hours-of-service requirements granted in this notice does not alter a motor carrier's duty to monitor its drivers; maintain records of duty status, and ensure drivers are not ill, fatigued, impaired, or otherwise unable to operate a commercial motor vehicle safely.