Honoring the Industry's Safest Professional Drivers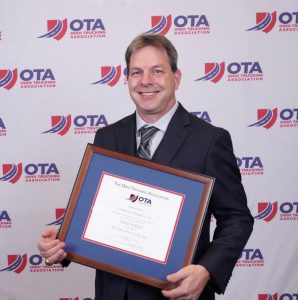 David Wolford with Continental Express, Inc., the 2022 Driver of the Year
On March 24, 2023, the Ohio Trucking Association named David Wolford of Continental Express, Inc. the 2022 Driver of the Year at the Awards Celebration recognizing the OTA Driver of the Year and OAM Award Winners, presented by Great West Casualty Company.
Wolford has been a professional driver for 19 years, driving over 2.5 million safe miles. He has won a Continental Express annual safe driver award for the past 18 years and the Continental Express 2020 Dedicated Driver of the Year. Wolford hosts the Continental Express podcast, where he talks about industry events, tips, and safety and is involved with making the company's driver training and safety videos for YouTube. In addition, he is a driver trainer and is very active in mentoring new drivers. Congratulations, Dave!
Congratulations to our Ohio Trucking Association Driver of the Year Finalists!
Steven Brand, FedEx Freight
Robert Bucci, Jr., Old Dominion Freight Line
Daniel Clark, Classic Carriers, Inc.
Alan Feeney, Pitt Ohio
Jack Fuka, Thomas E. Keller Trucking
Randy Hathaway, Mast Trucking Inc
Stephen Little, Jr., Duncan Oil Company
Mark Mowery, J.W. Didado Electric LLC
Gene Parsons, Quickway Transportation
RaQuan Peoples, Walmart Transportation
Timothy Russell, Clopay Transportation Company
David Wolford, Continental Express, Inc.
Congratulations to our Ohio Association of Movers Award Winner!
OAM Laborer/Driver of the Year - Glenn Rutter, Herlihy Mayflower Moving and Storage
Thank You to our Presenting Sponsor:

2023 Event Photos & Highlight Video: