New Date and Location! Driver of the Year Banquet set for August 14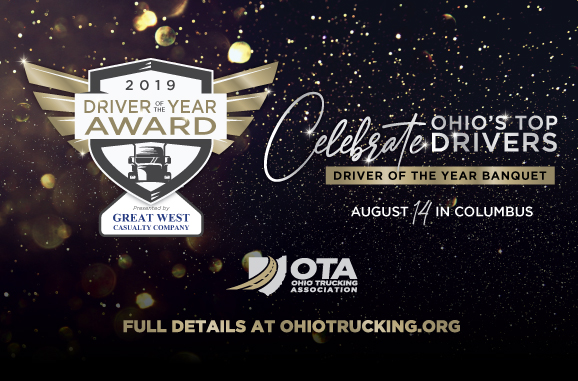 Each year, the Ohio Trucking Association looks to its members to nominate amazing drivers to be in the running for Driver of the Year. These drivers possess an excellent driving record, dedication to the profession and a passion to improve the roads through a safety first mentality. Out of all the nominations received, 12 were chosen as finalists. Each finalist and their company will receive a plaque in recognition of their outstanding driving career. After careful deliberation by our judging panel, the winning driver will be announced during our awards banquet at the Nationwide Hotel and Conference Center. The event will be held inside the NorthPointe Ballroom (located inside the Virginia Building).
Congratulations to the 2019 OTA Driver of the Year Finalists:
Daniel Clark, Classic Carriers, Inc.
Nicholas Delzeith, Clopay Transportation Company
Glenn Gray, PGT Trucking, Inc.
Jason Imhoff, Walmart Transportation
Clint McBee, GetGo Transportation Co., LLC
Brent McFarland, Grammer Logistics
Jeffrey Pentrack, Pitt Ohio
Brian Petrovcic, ABF Freight
Jeffrey Rose, YRC Freight
Dennis Smith, Ports Petroleum Co., Inc.
Gary Trash, XPO Logistics
David Wolford, Continental Express, Inc.
Event Date:
Driver of the Year Awards Banquet
Friday, August 14
Schedule of Events:
5:30pm – Cocktail Reception
6:15pm – Dinner
7:15pm – Awards Ceremony
Event Location:
Nationwide Hotel and Conference Center
NorthPointe Ballroom (located inside the Virginia Building)
100 Green Meadows Drive South
Lewis Center, OH 43035
Hotel Accommodations:
A room block has been negotiated at the Nationwide Hotel and Conference Center. Room rate is $129 per night. Please call reservations directly at (614) 880-4300 and reference the "Ohio Trucking Association." Or book online at: https://www.reseze.net/servlet/WebresResDesk?hotelid=1382&arrivalMonth=08&arrivalDay=14&arrivalYear=2020&1nightsStay=1&adults=1&groupId=251921&check_avail=Check+Availability
2019 Driver of the Year is presented by: