Nominate an Outstanding Driver
Each year, the Ohio Trucking Association looks to its members to nominate amazing drivers to be in the running for Driver of the Year. The OTA is looking to recognize drivers that possess an excellent driving record, dedication to the profession and a passion to improve the roads through a safety first mentality. Out of all the nominations received, 12 will be chosen as finalists. Each finalist and their company will receive a plaque in recognition of their outstanding driving career. After careful deliberation by our judging panel, the winning driver will be announced April 3, 2020, at the Marriott Columbus University Hotel.
The deadline to nominate your driver is February 3, 2020.
The judging panel is made up of individuals representing the Ohio State Highway Patrol, Public Utilities Commission of Ohio, and Ohio Bureau of Workers' Compensation.
Driver of the Year nominees must be employed by an OTA member company. The following aspects of the driver's career are examined during the application process: equipment driven; years with present employer and total years driving; details of preventable and non-preventable accidents; and participation in industry activities.
Congratulations to our 2018 Driver of the Year Finalists!
Edmund J. Barron, Walmart Transportation
Anthony Irvin Blount, CLE Transportation Company
Steven Anthony Brand, FedEx Freight, Inc.
Nicholas Joseph Delzeith, Clopay Transportation Company
Donald J. Fisher, Wooster Motor Ways, Inc.
Ricky L. Franklin, PGT Trucking, Inc.
Jason Dean Imhoff, Walmart Transportation
Craig Lackey, Cowen Truck Line, Inc.
Jeffrey L. Perine, Continental Express, Inc.
Dean Mervin Quellhorst, Clopay Transportation Company
Jeffrey Allen Rose, YRC Freight
David Bart Wilhelm, Thomas E. Keller Trucking, Inc.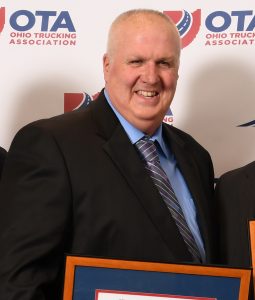 Dean Quellhorst of Clopay Transportation Company was named the 2018 Driver of the Year, April 5, 2019. Dean has been driving for 37 years and has accumulated over 3,103,533 safe driving miles. Dean's accolades include the 2009 Wayne McGreevy Award and being a six-time Ohio Trucking Association's Driver of the Year Award Finalist. In addition to being a driver, Dean serves as a driver trainer at Clopay where he coaches up other drivers on how to be safe on the road.
The OTA asked Dean how he has achieved his driving success. "My key to success is the ability I have to plan ahead," he said. "I feel that if you prepare and plan for your day, look ahead at the route, and give yourself ample time, you reduce the chance of complications. I love the trucking industry and the satisfaction that it has provided me over the years."
Dean is active in his community and involved in various organizations, including: Ohio Trucking Safety Council; Sons of the American Legion; St. Paul UCC; New Knoxville Gun Club; and the Home Benefit Association. Dean has and continues to show dedication to the industry and commitment to improving driver image, safety, and professionalism.
2018 Driver of the Year presented by: