Honoring the Industry's Safest Professional Drivers
Jeffrey Rose of YRC Freight named the 2019 Driver of the Year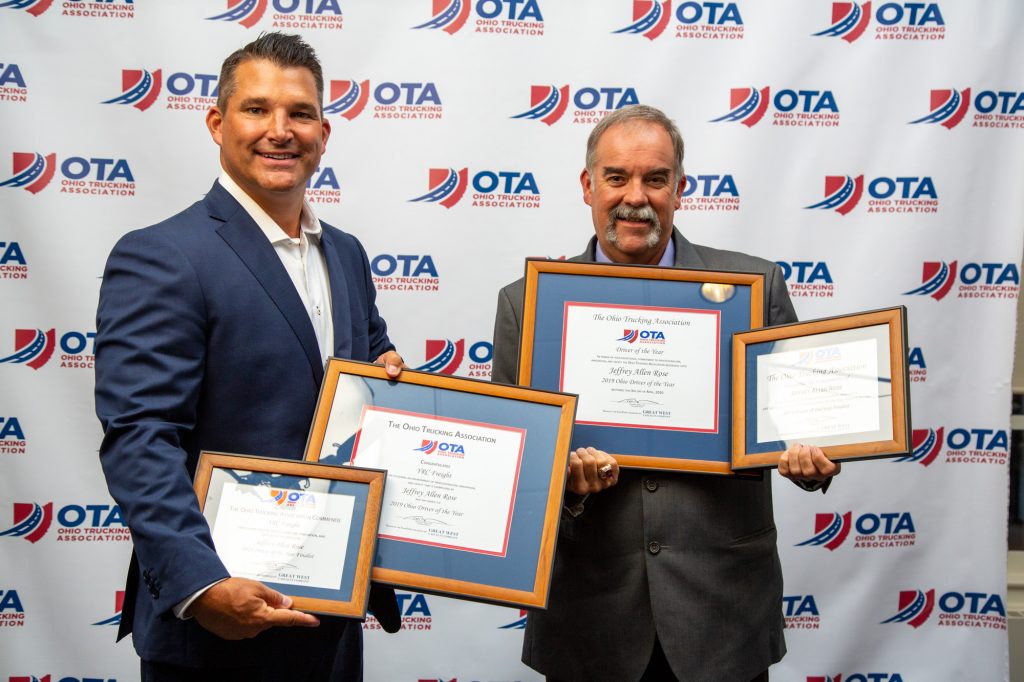 On April 14, 2020, the Ohio Trucking Association named Jeffrey Rose of YRC Freight the 2019 Ohio Trucking Association's Driver of the Year at the annual Driver of the Year Banquet, presented by Great West Casualty Company.
Rose has been employed with YRC Freight for the past 28 years and has driven more than 3.3 million accident and incident free miles during his professional driving career. He is a prominent member of the YRC Freight R36 Safety Team as well as a YRC Freight Safety Trainer. Rose works closely with the Ohio Highway Patrol and Ohio Motor Carrier Enforcement in numerous officer training and motoring public safety initiatives and ambassador programs. Additionally, he has competed in five Ohio Truck Driving Championships and in two National Truck Driving Championships.
Congratulations to all of the 2019 OTA Driver of the Year Finalists:
Daniel Clark, Classic Carriers, Inc.
Nicholas Delzeith, Clopay Transportation Company
Glenn Gray, PGT Trucking, Inc.
Jason Imhoff, Walmart Transportation
Clint McBee, GetGo Transportation Co., LLC
Brent McFarland, Grammer Logistics
Jeffrey Pentrack, Pitt Ohio
Brian Petrovcic, ABF Freight
Jeffrey Rose, YRC Freight
Dennis Smith, Ports Petroleum Co., Inc.
Gary Trash, XPO Logistics
David Wolford, Continental Express, Inc.
About the Event
Each year, the Ohio Trucking Association looks to its members to nominate amazing drivers to be in the running for Driver of the Year. These drivers possess an excellent driving record, dedication to the profession and a passion to improve the roads through a safety first mentality. Out of all the nominations received, 12 were chosen as finalists. Each finalist and their company will receive a plaque in recognition of their outstanding driving career. After careful deliberation by our judging panel, the winning driver will be announced during the awards banquet.
2019 Driver of the Year is presented by: